Return on investment is something that is often hard to measure with Sales training, how do you truly know if it's the training that's worked?
At FAB solutions we have created a great tool to be establish your baseline and measure the impact of training on your teams to help give your ROI confidence it's called the FAB solutions Flywheel.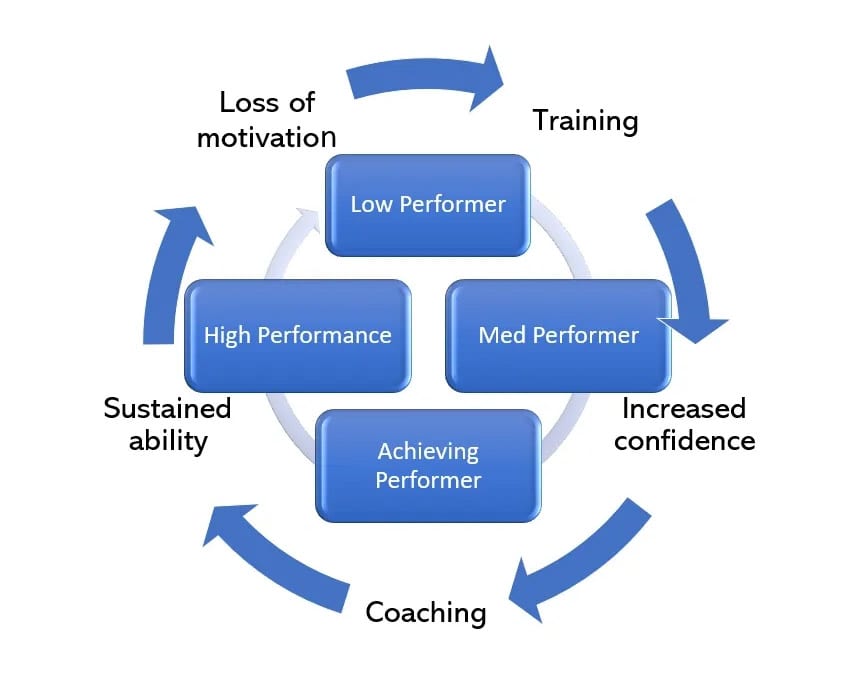 The flywheel looks at three key things to help determine your performance rating index which determines ROI:
Where are your people in the performance spectrum of your business?
What is your Performance rating index?
What is the root cause of any underperformance?
To define your performance rating – we use a simple calculation to establish your current baseline this then helps us understand the scale of the performance shift you need.

For example:
An organisation with 100 sales agents, 25 high performance, 20 achieving performers, 30 mid performers and 25 low performers would mean a FAB performance rating index of 45%
= (25 + 20)/ ((30+25) + 45) * 100 = 45% FAB performance rating
From here you can then start to calculate the amount of work needed to move your rating up. It's important to note you will never get to 100% due to internal challenges such as performance management, competency curves and staff attrition and training but ideally you want a performance rating above 80%
Understanding what you want to achieve and where your people are creates a really great springboard to move your performance up and allows FAB solutions to give your really great insight into what ROI can be achieved by moving your metrics across the 4 different performance quartiles.
Common mistakes in organisations
Quite often organisations will look at a  key performance indicator to improve  for arguments sake let's say you want to move your sales conversion up by 5%? On the face of it this is my seem easy, everyone just needs to convert an extra 0.65 customers from every 10 leads you give them – marketing spend and costs of acquisition aside.
The reality though is this is a far greater challenge then you think – why?
We know the performance in each quartile can differ dramatically so expecting these agents to improve overnight is unlikely to help you deliver this which means you need you more then a 5% uplift from agents already at maximum performance so squeezing more is an even bigger challenge.
Optimising your existing workforce and knowing where they are is the key to shifting performance in your organisation and this may mean making some tough decisions and means investing in good quality training for your sales team but also good quality development in your leaderships team.
Understanding who is in your performance flywheel is crucial as this will help establish how much of a leap you need to achieve to deliver your performance goals but also gives you the visual breakdown of your business performance  and what you can do to naturally increase your sales revenue and objectives without the need to stretch  your top performers and helps reduce costly sales interventions and expensive marketing campaigns which might not hit the mark.
So, in summary 4 ways to making sure your training has an impact and delivers you ROI
Measure your baseline performance metrics
Establish what your current level of performance is and the size of the gap
Invest in quality training/leaderships development to start moving your flywheel
Monitor the shift in your performance rating index to establish the impact of the change and the ROI possible.
FAB solutions provide in house support to your teams and can help you calculate your performance rating index and work with you for one off sales training interventions or a continued programme of support to help embed training and leaderships development to help continue to grow your business.