Contact Centre Training

Contact Centre Training

Contact Centre Training

Bespoke programmes to suit your centre

Sales training to suit your teams and grow your business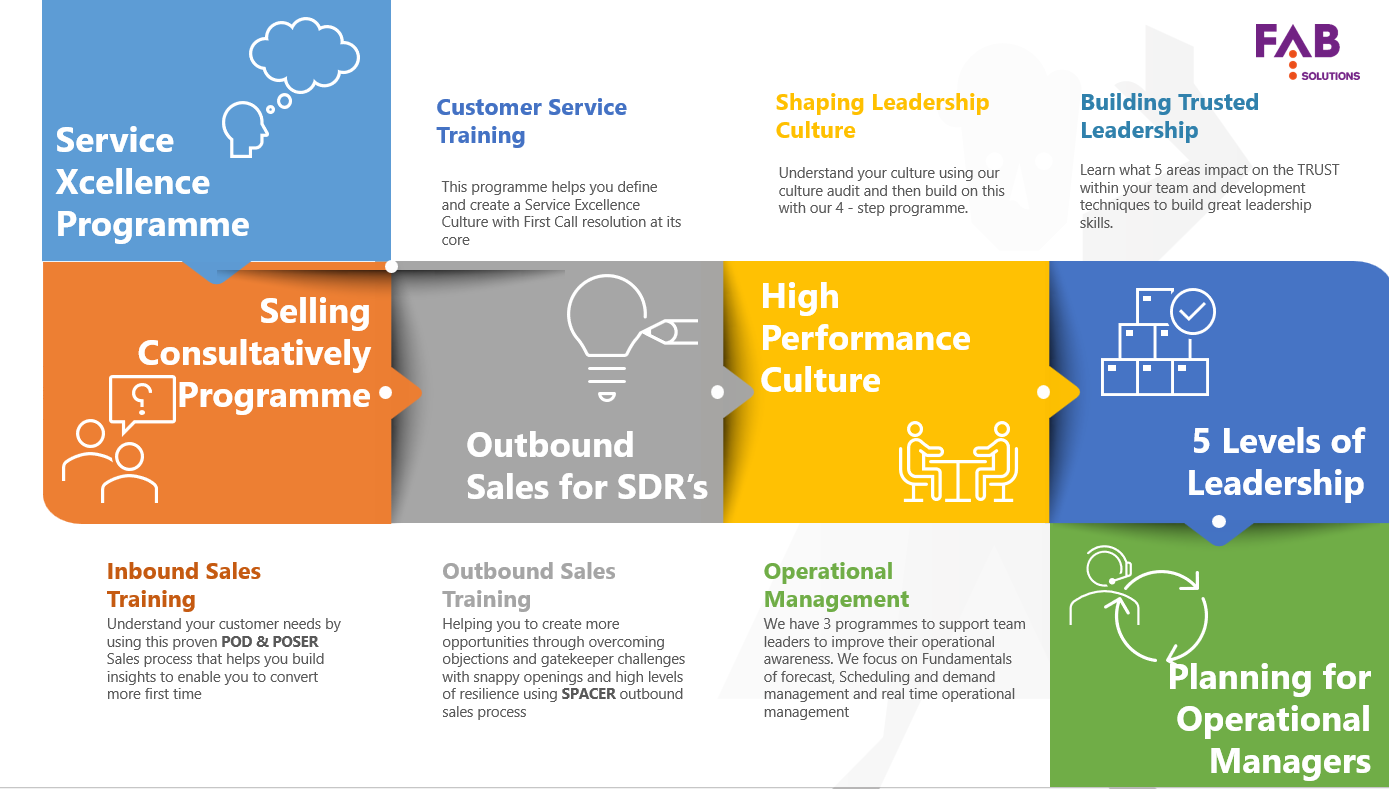 Training is an absolutely fundamental part of contact centre life and we understand that with a good quality training programme, customer service, sales and employee engagement can all thrive.
We offer a range of programmes across the contact centre, our Service Xcellence programme helps contact centre agents increase customer satisfaction by focusing how you can deliver the best first impression, first call resolutions and support that will see your agents taking ownership and exceeding customer expectation as well as handling your most sensitive and vulnerable customers with empathy and care.
To reinforce great service you need great leadership, we tailor our leadership programmes to the contact centre environment and use our experience in contact centres to bring this to life, focusing on Trust, High performance and operational leadership we have programmes that will help your team leader capability soar.  
Having a clear and robust sales process is key to any business' success whether that's acquiring new customers, retaining existing clients or growing your leads though targeted social media or outbound prospecting we have the capability to help you with one off sales training interventions or ongoing support to help increase your sales teams' performance.
The sales programmes have been designed from our years in the contact centre sales environment, we know you deliver sales through amazing service and positive mindset, our 7-Stage Inbound Consultative sales and the SPACER outbound methodologies are proven to work.
We use effective questioning techniques and active listening practices to help you build rapport, empathy and trust in your sales process which will help you link your customers up to the right solutions for them reducing cancellation rates, post-sale complaints and improved loyalty and retention
Get in touch to book now.
Get in touch to book now.
Sales Training Programmes
We have a variety of course modules that will help give your team a grounding in the sales process and build on their skills using a various proven psychology, influencing and selling techniques, each delegate gets to take away their own workbook and sales models referenced in the course to continue to hone their craft after the workshop.
Customer Service Training
Group packages are a great way to help save your business money, so if you have a sales team that you would like to develop though a series of modules but don't know when you could commit you can purchase course modules and use these when it suits your business, this can be done onsite or at a local venue to your business – save up to 25% with group bookings.
Using social media to help build your brand presence and your leads is a very cost-effective tool for lead generation activity. Nearly 80% of B2B leads come from linked in so if you don't have the right profile or social media strategy in place you could be missing out. We give you the skills to perfect your profile and help you connect with people that will boost your business.
"Thanks Garry for the help and input this week! I would love to recommend Garry because our brainstorming/troubleshooting session was simply amazing! His logical and thought provoking approach really challenged me in a super positive way. I am now ready to tackle the problem and have been taught a different way to approach difficult situations. I will definitely be back for more Garry!"
Michelle P, Facilities Management
Subscribe to our newsletter
By filling in your details and clicking 'Submit' you are consenting for FAB Solutions to send you marketing emails. You can unsubscribe at any time by clicking 'Unsubscribe' in any email received.