Leadership Training

Leadership Training

Leadership
Training

Leadership development programme

bibitesThe role of the sales manager is to inspire, coach and motivate people to deliver a high performing team culture ensuring people reach their full potential.
​
Our Training for leaders is modular and this enables delegates to move into role or develop in role with clear understanding of the skills to be a successful leader not just manager.
You can Pick and choose which elements are right for your leaderships team and we build the programme for you as 90 minute modules which include an observed coaching/feedback session per team leader 
Delegates will explore key leadership skills and essential sales management techniques to create high performing, highly motivated sales teams including all of the Programmes listed below and we can tailor this to the size of your team and the challnges they face so you have a completely bespoke delivery
Our approach to to training is to focus each workshop on one clear model and provide you with practical tools to take away and apply in the workplace with coaching built into the delivery schedule to validate the learning and give you a personalised development plan for each team leader.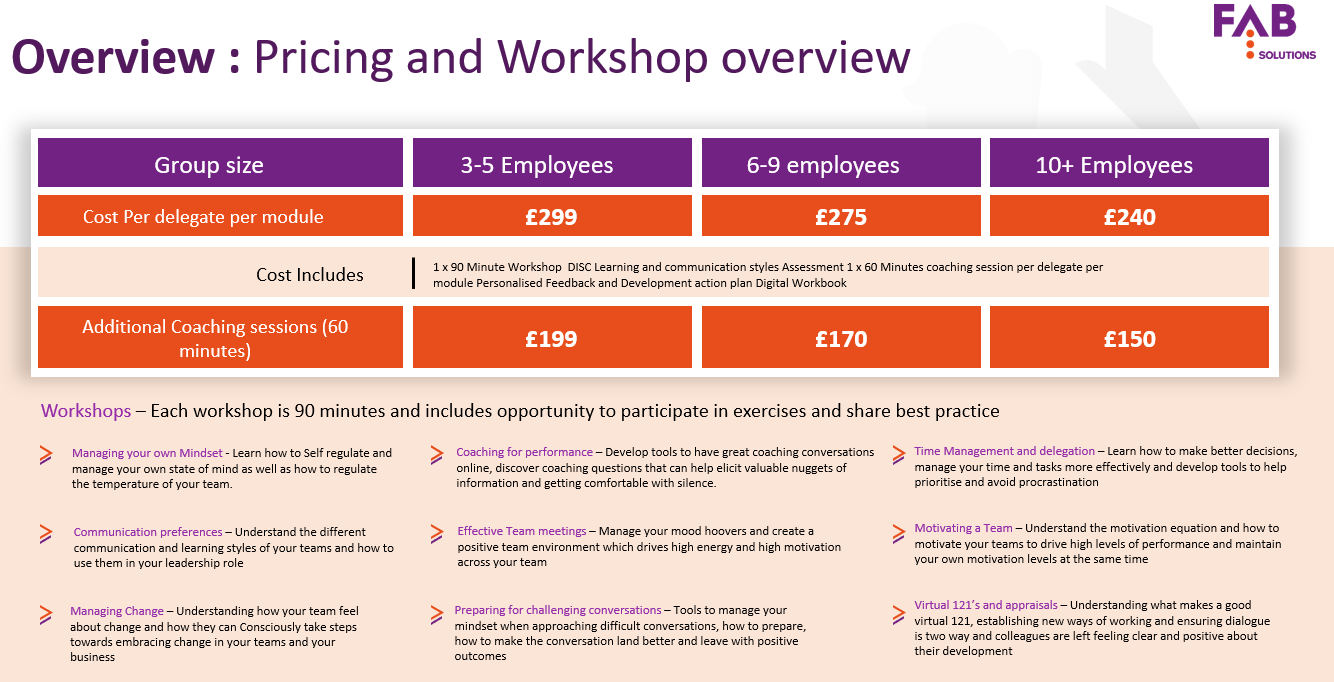 "We all came away with a real sense of how to move forward. Through well-thought out, interactive sessions, we covered topics such as our connection to the organisation, what it means to have a growth mind-set, our circles of concern, control and influence and how to get the best out of each other."
This one-day workshop is designed to give practical skills and tips for leaders on how to manage their time, set goals, have performance conversations, run effective team meetings and coach and develop their people to get the most out of them to foster a winning culture of success
This course is suitable for new managers or existing managers who want to develop their leadership and managements skills to crete highly engaged employees and winning culture.
What will you gain from this course?
The Manager role versus the Leader
Understand the key differences between managers.
What are the characteristics of good leaders.
The importance of the leadership role.
Coaching and Mentoring
Understand the difference between a mentor and a coach.
Effectively Coach your team new models to help develop your people.
Good coaching questions and rapport techniques.
Effective communication techniques
Active Listening
Techniques to listen and be heard.
Assertiveness and negotiation
Finding your voice in your leadership.
Influencing and persuasion
Managing your team and managing upwards.
Leadership and culture – creating highly engaged employees
Connecting culture and purpose
The importance of defining good culture.
Courageous conversations
How to approach 121 discussion.
Delivering feedback
How to give and receive feedback.
Running effective action
Oriented meetings and huddles to motivate and inspire teams.
Goal setting and delegation
Assigning roles in your teams
Effective delegation techniques.
Time management
Techniques to help you free up more of your time.
Goal setting and evaluation
Planning and setting SMART objectives for you and your team.
Get in touch to book now.
Get in touch to book now.
"Garry brings a unique insight into sales leadership and operational excellence techniques ensuring organisations can generate added revenue whilst reducing cost. His previous corporate background enables him to bring an advantageous mix of service delivery skills particularly in heavily regulated business. I would have no hesitation in recommending Garry and his expertise."
Managing change and driving Performance
This course is designed for managers who have attended introductory leadership or have at least 6 months – 1 years management experience.
Understanding people
Understand how to establish different learning Styles and behaviours types as well as your own behaviours type.
How to Manage change
Successful tips for understanding how people react to change.
Creating a behaviour change
3 necessities to effect behaviours – Motivation, ability and prompt.
Remote management techniques
Temporary trust and building trust models.
Influencing and persuading
Develop skills to help you influence and shape your desired outcomes.
Delegation
What stops you and why you must start and how to mange your workload and delivery against deadlines as well as stakeholder management.
Setting performance goals
Create a vision for your own team to stretch your performance with robust business plans and SMART objectives.
Driving high engagement and culture
Understand how to motivate your teams, tackle team ninja's and disengaged employees to drive a great culture.
Creating meaningful action plans and understand how the performance management framework links to driving high performance culture.
Appraisals and how to approach mid year and end of year annual reviews.
How to maximise performance through productivity leakage – people and process, managing performance energy.
Get in touch to book now.
Get in touch to book now.
Full Day Management effectiveness workshops
Ideal for new managers or those developing into management roles, this course focuses on the fundamentals of being a manager, learning the basics of people management, leadership, motivation and performance conversations.
Ideal for people who already have experience and want to learn more detailed techniques on how to manage difficult situations, manage performance conversations, running team meetings, skillful delegation and leadership.
Learn how to use performance management techniques to accelerate your teams performance. Avoid finding yourself in HR hot water with frameworks to support you as a manager and learn how, done effectively, performance management can help grow a high performing culture.
Half Day Leadership skills builders
Define your business priorities with SMART principles and create a vision for your business with a clear business action plan, a tailored programme supported around your business needs to create compelling robust actiosn plans for you and your business.
Managing people can be tough and having a difficult conversation isn't always easy. Learn how to make your challenging conversations easier with coaching techniques, influencing and negotiation techniques and frameworks to help you handle some of the most challenging individuals. Use effective conversations to recognise greatness and drive performance and healthy culture in your team.
Good coaches are hard to find, this course helps improve your coaching skills by focusing on different frameworks and techniques to challenge your thinking and deliver great value from your coaching with your teams, take your coaching conversations to the next level.
Being an effective leader sometime means having broad shoulders, learn how to manage the differences between good stress and distress, learn how to say no from a postion of strengeth and create a win win position that helps you build your character and leadership strength.
Talent Management and good development conversations separate a manager from a leader, learn how to develop your teams with useful talent management frameworks and career coaching tools, developing people makes financial sense and is fulfilling to watch people grow so book now.
There is never enough time in the day. Now there can be, learn how to effectively prioritise, manage stakeholders, learn techniques for managing your time effectively and how to say no to extra work with time negotiation and non negotiables.
Subscribe to our newsletter
By filling in your details and clicking 'Submit' you are consenting for FAB Solutions to send you marketing emails. You can unsubscribe at any time by clicking 'Unsubscribe' in any email received.